Washing Machine Repair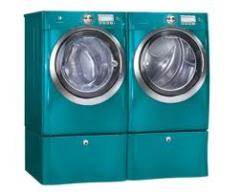 When you need washing machine repair for your home, Allen Appliance Company is the ideal solution. With over 60 years of experience, we're well-versed in all aspects of washing machine repair. Regardless of whether your washer isn't filling properly or spinning effectively, you'll be able to count on our professional technicians for all of the accurate, efficient washing machine repairs you need. So if you've been putting off your weekly laundry chores because cycles are taking too long to complete, stop: our washer-dryer repair technicians will get your machine back up and running in no time, so you can clear out the heaps of dirty clothes that have been piling up. Truly, we're your answer for full-service washer and dryer repair in Bloomfield Township and the surrounding communities. Call today!
Having six decades of experience means there's virtually nothing that could be wrong with your machine that we haven't already seen dozens of times. When you come to Allen Appliance Company for your Whirlpool, GE, or Maytag washing machine repair, you'll be treated to the advantages of experience that you won't be able to find anywhere else. Putting our troubleshooting and diagnostic skills to the test, we'll evaluate your washer's specific malfunction and identify the precise source of the problem. We're able to perform washing machine repairs for a number of the most common malfunctions, including:
Not draining or filling
Not agitating or spinning
Not starting at all
Leaking
Offering full-service customer care to residents throughout the Bloomfield Township area, the washer and dryer repair technicians at Allen Appliance Company will provide you with the utmost convenience and respect. In addition, we strive to make our washing machine repair services as affordable as possible in order to ensure that they are available to anyone who needs them. And unlike other washer-dryer repair companies, we're staffed by genuine experts. That means you can rely on our comprehensive washing machine repairs to be exactly what you need to get your laundry schedule back on track.
Whether it's Maytag washing machine repair or LG washing machine repair, our specialists are able to handle virtually anything that comes our way. When it comes to washer and dryer repair, there's no such thing as an easy job—but with our honed skills and know-how, we make it look like a snap. Our rates are extremely reasonable, and we even offer over-the-phone service to help you with your ailing machine before we make the trip. For truly excellent washer-dryer repair work, call or e-mail Allen Appliance Company now.
Washing Machine Repairs
Washer Repair
Washing Machines Repairs