Refrigerator Repair
Just think: Your refrigerator is cycling on and off all day, working hard to keep your food safely chilled. So when your refrigerator breaks down, it's an immediate problem. If your fridge isn't working properly, it won't be long before all of the perishable foods you store in your refrigerator and freezer go bad, potentially costing you hundreds of dollars! So if your fridge is behaving erratically or has just stopped running all together, don't wait to call Allen Appliance Company. In most cases, we can provide same-day refrigerator repair to ensure your fridge is returned to full functionality as soon as possible. If you need refrigeration repair now, we're the experts for the job!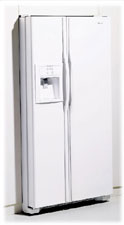 Although refrigerators are typically reliable appliances, there are a number of ways in which they can malfunction. Our refrigerator repair services can address a whole range of fridge issues, including:
No cooling
Too much cooling
Interior lights not turning off
Drain clogs
Leaks
And more!
Several of these problems can be caused by a few different failures, so the Allen Appliance Company refrigeration repair technicians will inspect and troubleshoot your unit to make sure we're performing an accurate repair. We'll get to the root of your refrigerator's repair problem to eliminate both the source and the symptoms.
Whether we're replacing a crumbling door seal or a fried thermostat, we have what it takes to get the job done right. Allen Appliance Company has been providing the Bloomfield Township area with professional appliance and refrigerator repairs since 1952, and we have the full gamut of tools, training, and refrigerator repair parts required to handle virtually any repair need. We provide service for freezers as well as the main fridge compartment, so regardless of where the problem is manifesting itself, we'll take care of it. Our experts are available to service just about any brand, and we're proud to offer refrigerators repair for basic fridge models as well as luxury brands like Sub-Zero. From Maytag refrigerator repair to GE refrigerator repair and beyond, Allen Appliance Company has you covered.
While we do not provide refrigeration repairs for commercial appliances, we are available to repair residential models installed in businesses. So if your break room fridge needs maintenance, Allen Appliance Company is the refrigerator repair service to call. For additional information, please don't hesitate to contact us today.
Refrigeration Repair
Refridgerator Repair
Refrigerators Repair