Dryer Repair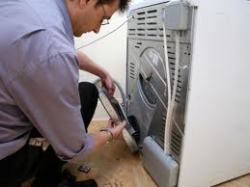 Is your dryer having trouble finishing cycles on time? Are you frequently pulling damp clothes out of the dryer? Do you have to keep the laundry room door closed while your dryer tumbles because it's too noisy? Whatever you're dealing with, chances are, your dryer malfunctions are starting to put a damper on your previous levels of convenience. If you're sick of getting unsatisfactory performance from your dryer, you need expert dryer repair from Allen Appliance Company. We're the Bloomfield area's solution for full-service washer-dryer repair work, and you'll be able to depend on our absolute precision to get your laundry room back in working order in no time. We pride ourselves on genuinely professional handiwork and affordable rates, so you'll get the swift results you need without blowing your budget.
Considering DIY clothes dryer repair? Think again. Given the complexity of most modern appliances, do-it-yourself repairs rarely go as planned. Save yourself from wasting hours of your precious free time—throw out your Maytag dryer repair manual and call Allen Appliance Company. Our technicians will be here to provide you with all the dryer repairs you need so you can stop avoiding the laundry that's been piling up for weeks. As soon as you start to notice your dryer's deteriorating performance, call our washer-dryer repair professionals. With over 60 years of experience under our belts, we've seen all there is to see by way of dryer malfunctions. Contact us for clothes dryer repair service if you notice any of the following common issues:
No tumbling
No heat
Not enough heat
Poor drying
At Allen Appliance Company, we're able to handle virtually any make or model under the sun. Whether your model is gas or electric, residential or coin-operated, we'll deliver truly outstanding results. From Maytag dryer repair to GE dryer repair, you can count on our technicians for the complete service and customer care you deserve. And with our extremely affordable rates, you'll be able to get your laundry-related chores back on track in no time.
For your total convenience, we also offer free service calls with same-day repairs. That means you can trust us to help you out with swift service when you simply can't afford to wait. So stop searching your house for that dryer repair manual—instead, call our washer and dryer repair technicians for the full-service dryer repairs you crave!
Washer Dryer Repair
Clothes Dryer Repair