Dishwasher Repair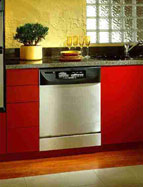 While dishwashers may not be essential to maintaining your household, they certainly make it a lot easier. Rather than scrubbing dishes, pots, and silverware by hand, you're able to load them into the dishwasher and let modern technology do the work for you. However, if your dishwasher starts leaking water or leaves nasty residue on your plates and glassware, you'll actually be left with more work than if you didn't have one at all. So when your dishwasher is showing signs of deterioration or is otherwise malfunctioning, call Allen Appliance Company for help. Our technicians are available to provide you with the outstanding dishwasher repair service you need to keep your household chores on track. We have been performing dishwasher repairs for more than 60 years, and we know what it takes to provide the best in customer service and handiwork all at once. To save yourself time and money when it comes to dishwasher rack repair, valve replacement, and more, call Allen Appliance Company today!
No matter what seems to be causing problems for your dishwasher, you can count on our seasoned experts to get straight to the source. With over six decades of experience, we're more than familiar with virtually every make and model on the market. Whether you need Bosch dishwasher repair, GE dishwasher repair, or Maytag dishwasher repair, we'll troubleshoot and diagnose your residential-size machine with zero hassle or delay. We work efficiently and accurately, making certain that the necessary water-inlet valve, door gasket, or overflow switch is precisely adjusted and positioned. When you need dishwasher repairs of any degree, Allen Appliance Company is the team you want on your side.
We're here to keep your home functioning at full capacity—that's why we work with such precision and efficiency. At Allen Appliance Company, our technicians are able to perform dishwasher rack repair, heating element replacement, and more. Offering service for all of the industry's most popular brands, our technicians are available for everything from Bosch dishwasher repair to GE dishwasher repair. No matter what kinds of problems you're experiencing with your dishwasher, you'll be able to count on us for affordable, convenient service. Contact us today if your dishwasher is exhibiting any of the following common symptoms:
Frequent leaks
Unpleasant smells
Detergent residue on dishes
Food remnants stuck on dishes
Disruptive noises
Ineffective draining
Insufficient water flow
Offering affordable rates and unparalleled customer service, Allen Appliance Company is your answer for full-service dishwasher repairs in Bloomfield Township. When you need a tried-and-true expert for your Maytag dishwasher repair, you won't find a more experienced or friendly team of technicians around. If you want to try your hand at restarting the machine yourself, feel free to give us a call! We'll walk you through a few different steps to get your dishwasher up and running before we visit your home. With this kind of thorough customer service, you simply can't go wrong! Allen Appliance Company is here to provide you with the dishwasher rack repair or Bosch dishwasher repair you need, so contact us via phone or e-mail today!
Dishwasher Rack Repair
Dishwasher Repair Service
Dishwasher Repairs